<!Recipie----->

Pea and Carrot Tomato Stew

Peas and carrot in a tomato stew with onion, garlic and spice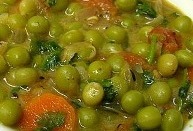 <!Ingredients----->

Ingredients:

500g Peas
1 Can 400g diced Tomatoes
2 Cups Boiled and Draied Rice
2 Garlic Cloves, crushed
2 Tabsp Tomato Paste
3 Cups Water
1 Large diced Onion
2 Carrots, peeled, chopped
1/4 Tesp Mixed Spices
1 Tablesp Olive Oil
Salt and Pepper to taste
Flat Leaf Parsley, finely chopped for garnish

<!Method----->

Method:

In large frying heat the oil then sauté the garlic and onions until lightly golden.
Add the carrots, peas, diced tomatoes, water, tomato paste and spice.
Bring to the boil then simmer on a low heat for 15-20 minutes stirring occasionally.
Garnish with with parsley and serve hot with rice.