<!Recipie----->

Ful Mudammas Soup

Fava beans with cumin, garlic and chilli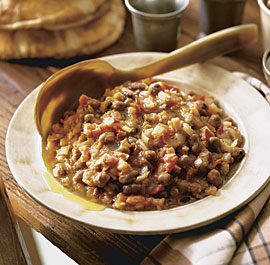 <!Recipie Ing & Meth--------->

Ingredients:

1 x Tin Ful Mudammas (fava bean)
1 x Sprig of Fresh Parsley
1 x Onion
1 x Lemon
Olive Oil
1 x Tea Spoon of Cumin Powder
1 x Clove of Garlic
1 x Fresh Chilli



Method:

Empty the Ful tin into a sieve and rinse thoroughly.
Heat some olive oil in a pan, when it gets hot add one chopped clove of garlic, one chopped chilli, the onion (diced) and a teaspoon of cumin powder.
Stir together and allow to sizzle on a medium heat for one to two minutes.
Add Ful Beans to pan.
Add one table spoon of fresh lemon juice, and two more table spoons on olive oil. Stir continuously for five to ten minutes until the Ful has become mushy. Ideally it should appear 'half mush/ half beans', although you can adjust this at your own discretion.
When it takes on the appearance describe above, add another splash of olive oil, sprinkle some fresh parsley on the top and serve quickly.
Ful Mudammas is usually served in pita bread sandwiches with humous and salad.