<!Recipie----->

Fish with tahini sauce

Fish baked in lemon, onion, garlic and tahini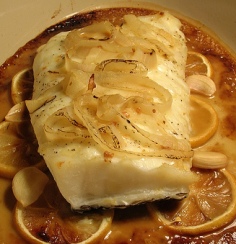 <!Recipie Ing & Meth--------->

Ingredients:

1 kg fish
3/4 cup tahini
1/4 cup lemon juice
1 large onion, thinely sliced
2 cloves garlic minced
3 tablsp olive oil



Method:

Drizzle olive oil, lemon juice and some salt on fish and place in a baking pan and cover with onion slices and garlic then bake at 180 degrees for about 10-12 minutes.
Spread tahini sauce over fish and cover.
Bake for 15-20 minutes.
Serve immediately (can served with white rice and lemon wedges).