<!Recipie----->

Moroccan Duck Recipe

Duck in a spicy mandarin broth with sesame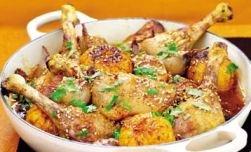 (Aslo spelt as mulukhiyah, mloukhiya, molokhia, molohiya, mulukhiyya, malukhiyah, or moroheiya)
<!Recipie Ing & Meth--------->

Ingredients:

4 large duck legs
2 tablesp olive oil
Salt and pepper to taste
200g shallots , peeled
2 tsp each ground coriander, cumin, ginger and paprika
600ml vegetable stock
2 tsp clear honey
juice 1 lemon
2 mandarins, peeled
3 tablesp chopped coriander
2 tablesp toasted sesame seeds



Method:

Pre-heat oven to 180c.
Put the duck legs in a large roasting tin, brush with olive oil, sprinkle salt and pepper then roast for 40 mins.
Remove the duck legs to a dish then spoon 3 tbsp of the duck fat into a frying pan (reserve the remainder of the duck fat).
Add the shallots and sauté with the duck fat until golden then Sprinkle in all the spices and mix well, add stock, honey, lemon juice then bring to boil.
Put then duck in, cover and simmer on a low heat for about 1 hour until the duck is tender.
In a saucepan add 1 tbsp of the duck fat, add the mandarins and fry until softened into the fat.
Add to the pan with the duck and cook for a another 15 mins, then add the coriander and sesame seeds.
Serve with couscous or rice.