<!Recipie----->

Egyptian Lemon and Garlic Chicken

Baked boneless chicken pieces in garlic, lemon, cumin and parsley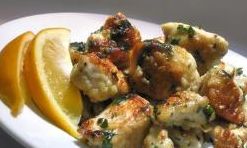 <!Ingredients----->

Ingredients:

1kg Boneless Chicken, cut into small pieces
1 Lemon juice
Salt and pepper to taste
1 Tsp cumin powder
6 Cloves Garlic, crushed
3 Tsp Olive oil
1 Bunch Parsley, finely chopped

<!Method----->

Method:

In a large bowl mix the lemon juice, salt, pepper, cumin powder, garlic and olive oil then coat chicken pieces well and let marinate for one hour.
Preheat oven to 200c.
Place chicken on a baking tray and bake until golden.
Serve garnished with parsley and with lemon slices.