<!Recipie----->

Chicken Kofta Skewers

Spicy chicken skewers with garlic, onion, coriander and parsley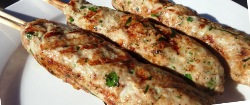 <!Ingredients----->

Ingredients:

1kg Ground Chicken
4 Cloves Garlic, crushed
1 Large Onion, grated
1 Tbsp Fresh Coriander, chopped
1 Tbsp Fresh Flat Parsley, finely chopped
1/4 Tsp Sweet Paprika
1/2 Tsp Ground Cumin
1/2 Tsp Ground Coriander
1/8 Tsp Ground Cinnamon
1/2 Tsp Ground Ginger
1 Egg
Salt and Pepper to taste
1 Tblsp oil for frying

<!Method----->

Method:

In a large bowl add all of the ingredients then with your hands mix through well.
Roll into about 12 small sausage shaped (about 10cm long) rolls.
Insert skewer through then mould around skewer.
Heat oil in a large frying pan or grill pan on high.
Cook koftas turning occasionally until cooked through.