<!Recipie----->

Spicy Chicken Puff Pastry Rounds

Pastries with spicy, garlic, ginger, bell pepper and chicken mince filling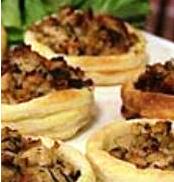 <!Ingredients----->

Ingredients:

250g Chicken Mince
300g Puff Pastry Dough
1 Tblsp Olive Oil
1 Medium Onion, finley chopped
1/2 Green Bell Pepper, finley chopped
2 Cloves Garlic, cruched
1 Tsp Fresh Ginger, grated
1 Tsp Ground Cumin
1 Tsp Ground Coriander
Salt and Peper to taste
1 Egg for brushing, beaten

<!Method----->

Method:

In large frying pan heat the oil then sauté the onions, ginger and garlic until lightly golden.
Add the chicken, bell pepper, and spice then cook for 10 minutes until chicken is cooked.
Roll out puff pastry dough to 2-3mm thick then cut out rounds with a cutter.
Place the chicken mixture in the center then brush the edges with the beaten egg.
Preheat the oven to 180c.
Bake in oven for 20-25 minute until pastry is lightly golden.
Allow to cool then serve.