<!Recipie----->

Lebanese Eggplant Saksuka

Eggplant potatoes and capsicums in a tomato garlic sauce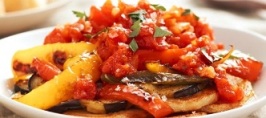 <!Ingredients----->

Ingredients:

1 kg potatoes
2 medium sized onions
1/2 kg capsicums
2 kg tomatoes
1 kg eggplant
1 bunch parsley
1 head garlic
1 lemon
frying oil, olive oil, salt
Turkish bread to serve

<!Method----->

Method:

Cut the eggplants into stripes and place in salty water for 30-40 minutes.
Peel potatoes and thinly slice into discs.
Cut the capsicums into stripes and remove seeds.
Heat 7 cm of frying oil till hot in a frying pan then fry potatoes, eggplant and capsicum until lightly golden.
Make the saucee In another frying pan, add a tablespoon of olive oil once hot add finly diced onions, crushed garlic, salt to taste and saute.
Then add peeled and chopped tomatoes and cook for 3-5 minutes (add a little water as desired).
In a plate pour sauce over the fried vegetables, squeeze on lemon and garnish with chopped parsley, then serve.