<!Recipie----->

Moroccan Coconut Balls

Almond meal balls with shredded coconut and lemon zest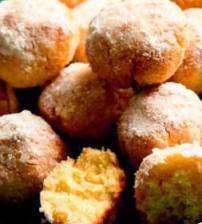 <!Ingredients----->

Ingredients:

2 Eggs
1/2 Cup Caster Sugar
1/4 Tsp Salt
Zest of 1 Lemon
40g Unsalted Butter, Melted
2 Tbsp Vegetable Oil
1 Cup Almond Meal
1 Tsp Baking Powder
3 Cups Shredded Coconut
1 Tbsp orange Blossom Water
2 Tbsp Icing Sugar

<!Method----->

Method:

Preheat oven to 180c.
Over a pot of simmering water whisk eggs and sugar in a stainless-steel bowl for 2 minutes until sugar has dissolved. Ensure water bowl doesn't touch and the eggs don't cook.
Add in salt and zest then stir well to combine.
Stir in melted butter, oil, almond meal, baking powder, orange-blossom water and coconut.
Cover and refrigerate for 15 minutes until mixture is firm.
Use to wet hands and roll 3 tsp sized coconut mixture balls.
Dip one side of each ball into icing sugar, flatten slightly and then place onto an oven tray lined with baking paper.
Bake for 15 minutes until golden and firm.
Allow to cook then serve.