<!Recipie----->

Chickpea Soup

Chickpeas and veg with cumin, lemon and fresh coriander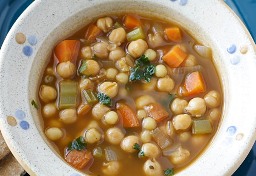 <!Recipie Ing & Meth--------->

Ingredients:

1 cup chickpeas, soaked in water overnight, then drained
8 cups water
2 Tablesp olive oil
2 medium size onions, chopped
2 Stalks of celery, chopped
1 large carrot, chopped
3 cloves garlic, crushed
1 small hot pepper, finely chopped
1/2 cup finely chopped coriander leaves
1 teasp ground cumin
1/4 cup lemon juice



Method:

Place chickpeas and water in a saucepan and bring to boil. Cover and cook over medium heat for 1 hour.
Heat oil in a frying pan, then fry onions, garlic and hot pepper until golden, then add cumin.
Add the onion mix to the chickpeas. Cover and cook over medium heat for 20 minutes or until chickpeas are well cooked.
Stir in lemon juice and coriander then serve.