<!Recipie----->

Moroccan Honey and Paprika Prawns

Prawns fryed in garlic, paprika, cumin, ginger and honey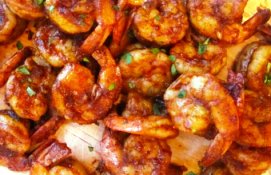 <!Ingredients----->

Ingredients:

500g Large Prawns, peeled, deveined
3 Garlic Cloves, crushed
4 Tblsp Olive Oil
2 Tsp Paprika
1 Tblsp Ground Cumin
1 Tsp Ground Ginger
1 Tsp Cayenne
Salt to taste
2 Tblsp Honey
Juice of 1 Lemon
1 Tblsp Flat Leaf Parsley, finely chopped

<!Method----->

Method:

Heat olive oil in a large frying pan over medium-high heat for 2-3 minutes, add the garlic.
reduce heat to medium and sauté the garlic for 1-2 minutes.
Add all the ground spices and honey stir well to combine.
Turn heat to high and add the prawns.
Stir to coat and cook for 4-5 minutes until the prawns are pink.
Remove from heat, squeeze on lemon juice, add parsley, toss then serve at immediately once.