<!Recipie----->

Lebanese Lemon and Garlic Shrimp

Shrimp with spice, lemon, garlic spring onions and parsley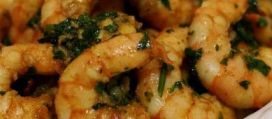 <!Ingredients----->

Ingredients:

400g Medium Sized Shrimp, cleaned and peeled
1/4 cup Olive Oil
3 Garlic Cloves, crushed
1 Tsp Ground Cumin
1 Tsp Paprika Powder
1 Tsp Ground Chilli
Salt and Pepper to taste
Juice of 1 Lemon
1 Tblsp Spring Onions, finely chopped
1 Tblsp Leaf Parsley, finely chopped

<!Method----->

Method:

In a large frying pan heat the oil then add the garlic, spices and shrimp.
Cook the shrimp for about 2-3 minutes then add the spring onions, parsley and lemon juice then cook for 1 minute more.
Remove from heat and serve.