<!Recipie----->

Egyptian Sengari Fish

Butterflied baked fish topped with tomato, bell pepper, onion and carrot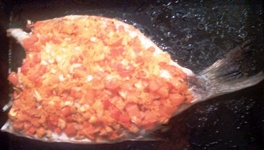 <!Ingredients----->

Ingredients:

1kg Whole Fish, gutted, scales removed
4 Garlic Cloves, crushed
2 Medium Tomatoes, finely diced
1/2 Bell Pepper, finely diced
1 Onion, finely diced
1 Medium Carrot, greated
2 Tsp Ground Cumin
Salt and Pepper to taste
Juice 1 Lemon
1 Tblsp Olive Oil
Lemon Wedges for serving

<!Method----->

Method:

Butterfly the fish by cutting along the spine.
Rub the fish with the garlic, cumin, salt and 1/2 of the lemon juice all over.
In a bowl mix the tomato, bell pepper, onion, carrot, salt, pepper, olive oil and the other 1/2 of lemon juice.
Place the fish flesh side up on a greased baking tray then top the fish with the mixture.
Cover with cling wrap then place in fridge for 1-2 hours to allow the flavours to be absorbed into the fish.
Pre-heat oven to 200c.
Bake the fish for 15-20 minutes.
Serve with lemon wedges.