<!Recipie----->

Turkish Cauliflower Salad

Boiled cauliflower with parsley, garlic and lemon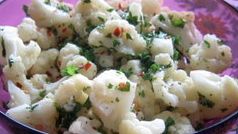 <!Ingredients----->

Ingredients:

400g Cauliflower Florets
1/2 Cup Fresh Flat Leaf Parsley, roughly chopped
Pinch of Salt

Dressing:
1 1/2 Tbsp Vinegar
2 Tbsp Lemon Juice
1 Tsp Lemon Zest
4-5 Tbsp Olive Oil
2 Garlic Cloves, crushed
12 Tsp Sugar
Dried Chili Flakes (optional)
Salt and Pepper to taste

<!Method----->

Method:

Boil the Cauliflower with a little salt for about 8-10 minutes to be tender yet firm. Drain then allow to cool.
Place the cauliflower in a salad bowl.
In a small bowl mix well all the dressing ingredients together.
Pour the dressing all over the Cauliflower then mix through the parsley then serve.