<!Recipie----->

Potatoes, chickpea & Mint salad

Potato, chickpea, fresh mint, bell pepper, garlic & lemon salad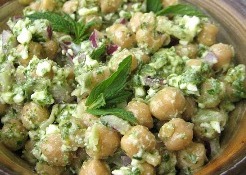 <!Recipie Ing & Meth--------->

Ingredients:

500g potatoes
400g canned chickpeas, rinsed, drained
1 large bell pepper, diced
1 small red onion, finely chopped
1 cup fresh mint, roughly chopped

Dressing:
3/4 tsp ground cumin
3/4 tsp ground coriander
2 tbs extra virgin olive oil
2 garlic clove, cruched
1 tsp white vinegar
1 tbs fresh lemon juice
Salt and pepper to taste



Method:

Boil potatoes for 15-20 minutes or until tender. Drain and set aside to cool then peel and dice.
Combine all the ingredients then add dressing, toss well then serve.