<!Recipie----->

Turkish Yogurt Chicken Stew

Chicken stew yogurt with potatoes and carrots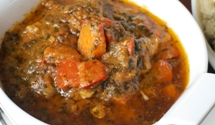 <!Ingredients----->

Ingredients:

4 Chicken Maryland, Skinless, Cut into 8 Pieces
1 Onion, finely chopped
1 litre of water
1/2 Cup Olive Oil
1 Tsp Dried Oregano Flakes
1 Tsp Dried Basil Flakes
2 Bay Leaves
2 Carrots, peeled, chopped
2 Garlic Cloves, crushed
2 Large Potatoes, peeled, diced
1 Cup Plain Yogurt
1 Tsp Ground Chilli (optional)
1 Tsp Ground Coriander
Salt and Pepper to taste
1 Tblsp Lemon Juice
1 Tblsp Leaf Parsley, finely chopped
2 Cups Boiled Rice

<!Method----->

Method:

In large pot add 1 tblsp of the oil heat then add the chicken and stir for 8-10 minutes until the chicken is sealed.
Add and sauté the garlic and onions until lightly golden.
Add the water bring to a boil then add bay leaves, oregano, basil, chilli, coriander, salt and pepper then reduce heat and simmer for 30 minutes until the chicken is cooked.
Add the potatoes, carrots and yogurt simmer on a low heat for 20 min until vegetables are tender. Add more water if required.
Remove from heat stir in parsley and lemon juice.
Serve with rice.