<!Recipie----->

Turkish Simit Bread

Bread made with yoghurt topped with sesame seeds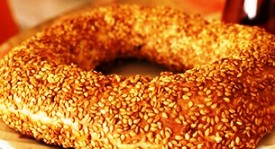 <!Ingredients----->

Ingredients:

3 Cups Plain Flour
1 Egg
1/2 Cup Yoghurt
1/2 Cup Olive Oil
2 Tbsp Unsalted Butter, room temperature
1 Tsp Salt
1 Tsp Baking Powder
1 Tsp Sugar
2 Tbsp Vinegar
Sesame Seeds for topping

<!Method----->

Method:

Preheat oven to 175c.
In a large bowl add the flour then make a hole in the middle.
In 2 small bowls separate the egg white and yolk then set aside.
In the flour hole add all the ingredients (except egg white and sesame seeds).
Slowly stir from the outside into the center gradually mixing all the liquids into the flour until it forms into consistent dough.
Shape the dough into a ring.
Brush the top with the egg white then with the sesame seeds.
Place on baking paper, on a baking try then bake for 20-30 minutes.
Allow to cool then serve.