<!Recipie----->

Turkish Lamb Pilau

Lamb fillet in a garlic cinnamon rice with dried apricots, pine nuts and fresh mint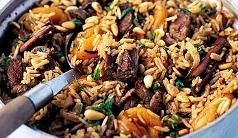 <!Ingredients----->

Ingredients:

1 Tbsp Olive Oil
1 Large Onion, diced
4 Garlic Cloves, crushed
500g Lean Lamb Neck Fillet, cubed
250g Rice
2 Cinnamon Sticks, Broken In Half
Salt and Pepper to taste
1 Tsp Ground Turmeric
12 Dried Apricots
1 Lamb or Vegetable Stock Cube
2 Tblsp Pine Nuts
1/2 Cup Fresh Mint Leaves, roughly chopped

<!Method----->

Method:

Add the oil to the pan then fry the onion, garlic and cinnamon together until lightly golden.
Stir in the lamb, fry until the meat browns, then add the rice and cook for 1 minute while stirring.
Pour in 500ml boiling water, crumble in the stock cube, add the turmeric, salt, pepper and apricots.
Reduce heat, cover and simmer for 12 mins until the rice is tender and the stock has been absorbed.
Mix through the pine nuts and mint then serve.