<!Recipie----->

Egyptian Beef and Spinach Stew

Ground beef with spicy spinach, onion and garlic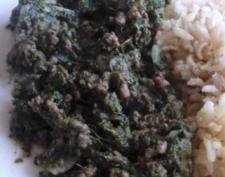 <!Ingredients----->

Ingredients:

500g Ground Beef
1 Large Onion, diced
3 Garlic Cloves, crushed
700g Fresh Spinach, roughly chopped
2 Tblsp Olive Oil
4 Cups Water
1 Tsp Ground Cardamom
1 Tsp Ground Coriander
1 Tsp Ground Cumin
Salt and Pepper to taste
2 Cups Rice for serving, boiled and drained

<!Method----->

Method:

In a large pot, add the olive oil and heat then add the onions and garlic and sauté until golden.
Add the ground beef and cook until the beef has lightly browned.
Add the spices then add the spinach and gently stir for 3-5 minutes.
Add the water to the pot, bring to a boil reduce heat to medium and let simmer for 20-30 minutes.
Remove from heat and serve with rice.