<!Recipie----->

Moroccan Thyme Yogurt Dip

Spicy yogurt, fresh thyme, ground coriander, cardamom and cayenne dip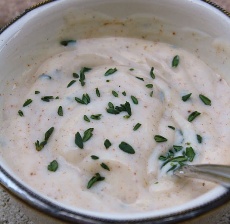 <!Recipie Ing & Meth--------->

Ingredients:

1 cup plain yogurt
1 medium garlic clove, minced or pressed
1/2 teaspoon fresh thyme leaves chopped
1/2 teaspoon ground cumin
1/2 teaspoon ground coriander
1/4 teaspoon ground cinnamon
1/8 teaspoon ground cardamom
1/8 teaspoon chili powder
A pinch of cayenne pepper
Sea salt and freshly ground pepper, to taste



Method:

Combine all of the ingredients in a bowl. Stir them well to combine the flavors.
Serve at room temperature or chilled with pita chips or crusty bread.