<!Recipie----->

Turkish Sutlac Pudding

Vanilla rice pudding with cinnamon on top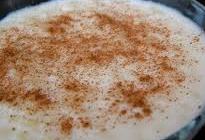 <!Ingredients----->

Ingredients:

1 Liter of Milk (plus 1/2 Cup for mixing with starch)
1/2 Cup White Rice
1 Cup Sugar
1 Tblsp Starch
1 Tsp Vanilla Essence
1 Tsp Cinnamon per serving bowl

<!Method----->

Method:

Rinse rice and boil slowly in 1 cup of water.
Add the milk and boil for another 10 more minutes.
Add sugar and stir until fully dissolved.
Mix in the starch with half a cup of milk then add it into the milk and rice mixture.
Bring to a boil then remove from heat and add the vanilla, cover and set aside for 10 minutes to cool.
Pour into serving bowls while still warm then sprinkle cinnamon on top once cooled.
Leave in the fridge for 1 hour to cool then serve chilled.