<!Recipie----->

Moroccan Vermicelli Pudding

Vermicelli in a thickened milk with orange flower water and cinnamon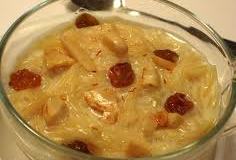 <!Recipie Ing & Meth--------->

Ingredients:

200g broken vermicelli
5 cups milk
3 tablesp sugar
1 tablesp butter
2 teasp orange flower water
2 teasp cinnamon powder
Crushed nuts and sultanas for garnish



Method:

In a large pot, bring the milk, butter, sugar, orange flower water and cinnamon to a boil then stir in the broken vermicelli.
Simmer gently for about 10 minutes, until the vermicelli is tender and suspended in the thickened milk.
Transfer the vermicelli pudding to a serving casserole or individual bowls and leave to set, 15 minutes or longer.
Serve pudding garnished with the crushed nuts and sultanas.