<!Recipie----->

Lebanese Sweet Cheese

Sweet cheese with semolina, orange blossom water and pistachio garnish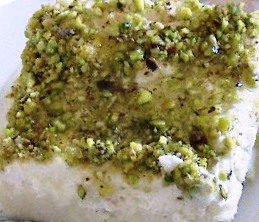 <!Ingredients----->

Ingredients:

1 Kg White Brine Cheese or Akawi
1 Cup Semolina
1/2 Cup Full Cream
2 Cup Caster Sugar
2 Tblsp Orange Blossom Water
1 Tsp Lemon Juice
1/2 Cup Whipped Cream
1/2 Cup Ground Pistachio for garnish

<!Method----->

Method:

Cut the cheese into small cubes then submerge the cheese in cold water. Change the water every 10 minutes until it's not salty.
Using a double-boiler pot with the bottom pot half filled with boiling water place the cheese in the upper part.
Stir with a wooden spoon until the cheese is melted and the water evaporates.
Mix through the full cream, semolina and sugar stirring gently until all the sugar is dissolved and it is well mixed.
Remove from heat then mix through orange blossom water and lemon juice.
Evenly spread into a lightly greased rectangular pan, allow cooling then place into the fridge for 4 hours to set.
Remove from fridge flip onto a serving plate then spread the whipped cream on top.
Garnish with pistachio nuts then serve.