<!Recipie----->

Lebanese Baked Apples

Apples baked with butter and honey, nuts and currants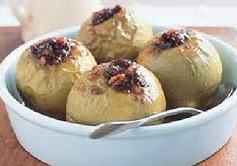 <!Ingredients----->

Ingredients:

5 Tblsp unsalted Butter, softened
¼ Cup Sugar
¼ Cup Honey
½ Cup Shelled Pistachio Nuts
½ Cup Pine Nuts
½ Cup Chopped Walnuts
½ Cup Currants
¼ Tsp Ground Cloves
½ Tsp Ground Cinnamon
1 ½ Tsp Rosewater
6 Medium to large Golden Delicious Apples, cored

<!Method----->

Method:

Preheat the oven to 175c. Butter an 8 inch square baking dish.
In a mixing bowl, cream 4 table spoons of the butter with the sugar and honey. Add all of the nuts, the currants, cloves, cinnamon, and rosewater. Chop all of the ingredients together until the mixture resembles a paste.
Stuff each apple with the nut mixture and stand, stem end down, in the baking dish. Rub the skin of each apple with the remaining table spoon of butter and sprinkle any remamining nut mixture over the apples.
Bake until the apples are soft, 25 to 30 minutes.
Serve warm, with Vanilla Ice Cream or Whipped Cream, if desired.