<!Recipie----->

Egyptian Karkady Hibiscus Tea

Sweet summer hibiscus tea drink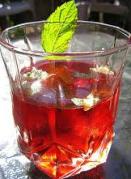 <!Ingredients----->

Ingredients:

1 cup dried hibiscus petals
1 cups sugar
500ml water

<!Method----->

Method:

Soak the hibiscus petals in cold water to cover for 1-2 hours.
Transfer the petals and water to a pot and bring to a boil.
Remove the pot immediately and strain the liquid through filter paper.
Discard the petals add and desolve sugar while still hot.
Serve chilled with ice.